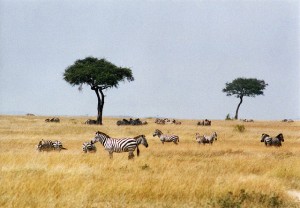 The countdown to our time in Africa has begun! We will be spending a little less than two months in the countries of Kenya and Ethiopia, beginning in October. During our time in Africa we will be taking part in a variety of cultural and natural activities.
While in Kenya, we will visit the Maasai Mara National Reserve in the southern portion of the country. This is one of Kenya's most famous protected areas. It contains many of Africa's iconic animals, including giraffes, zebras, lions, hippos, leopards and cheetahs. In fact, it is possible to spot all of the Big Five (lion, leopard, African elephant, Cape buffalo, and Black Rhinoceros) in the Maasai Mara.
This area is adjacent to the Serengeti Park in Tanzania and the two areas together are the site of the Great Migration, which takes place every year from July to October. This is one of the world's largest natural events, in which more than 2,000,000 animals migrate north to south, and then back again, in search of fresh pastures.
During our time at the Maasai Mara National Reserve we hope to learn more about the Maasai people. We will be taking a four-day walking safari, with a native Maasai guide, just outside the Masai Mara National Reserve. While on safari we hope to see many animals. We will also go on a couple of game drives in the reserve at the conclusion of the walking safari. We are excited about the blend of cultural and natural activities that we will experience here!
We will preview another part of our Africa itinerary next week, so stay tuned!